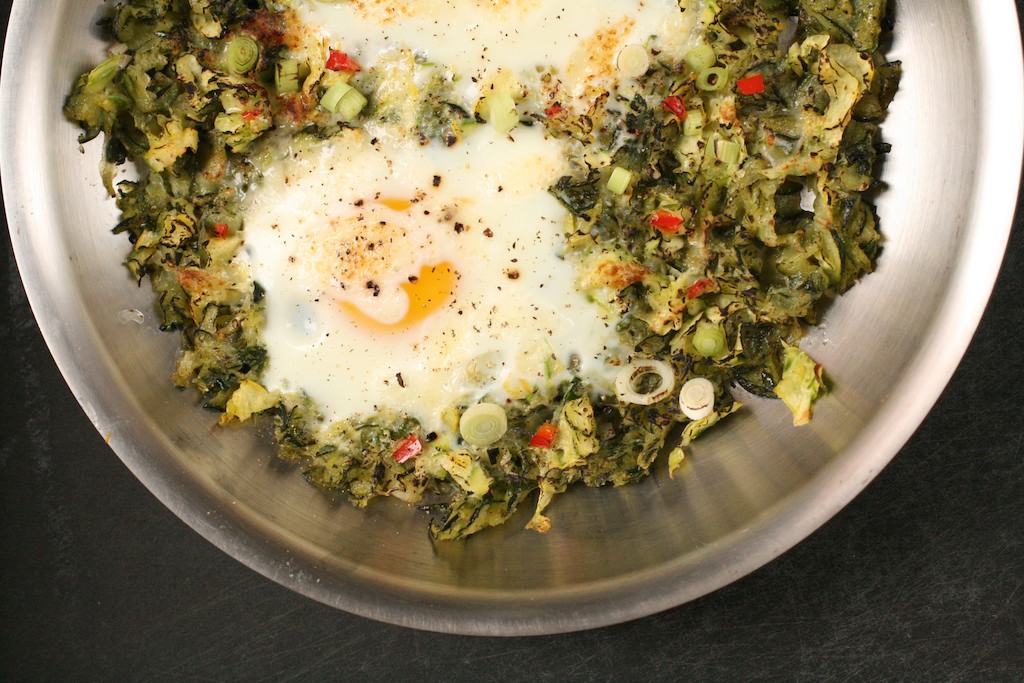 Ingredients
3 pounds (6 medium) summer squash and/or zucchini
Kosher salt
2 tablespoons extra-virgin olive oil
4 scallions, thinly sliced, white and green parts separated
1 jalapeno pepper, seeded and minced
3 tablespoons chopped fresh parsley
1/4 teaspoon freshly grated nutmeg
Freshly ground pepper
1 tablespoon unsalted butter
6 large eggs
1/2 cup grated pepper jack or sharp white cheddar cheese
Garnish: fresh parsley (optional)
Directions
Grate the squash into a colander using the large holes of a box grater (or use a food processor fitted with the shredding attachment). Toss with 1 tablespoon salt, then let drain in the sink, 30 to 40 minutes. Squeeze the squash to remove as much liquid as possible.
Preheat the oven to 375 degrees F. Heat the olive oil in a large ovenproof skillet over medium-high heat. Set aside 3 tablespoons scallion greens. Add the remaining scallions (white and green parts), the jalapeno, and salt to taste and cook until the scallions are soft, about 3 minutes. Add the shredded squash and cook, stirring occasionally, until tender, about 7 minutes. Stir in the parsley, nutmeg, and pepper to taste. Cook until the mixture is slightly dry, about 1 more minute. Remove from the heat and let cool, 5 minutes.
Spread the squash evenly in the skillet. Make six 2 1/2-inch-wide indentations in the mixture with the back of a spoon; put 1/2 teaspoon butter in each one. One at a time, crack each egg into a small bowl and pour into an indentation. Season with salt and pepper, and sprinkle with the cheese.
Transfer the skillet to the oven and bake until the egg whites are set and the yolks are cooked to desired doneness, 10 to 12 minutes. Scatter the reserved scallion greens and parsley on top.