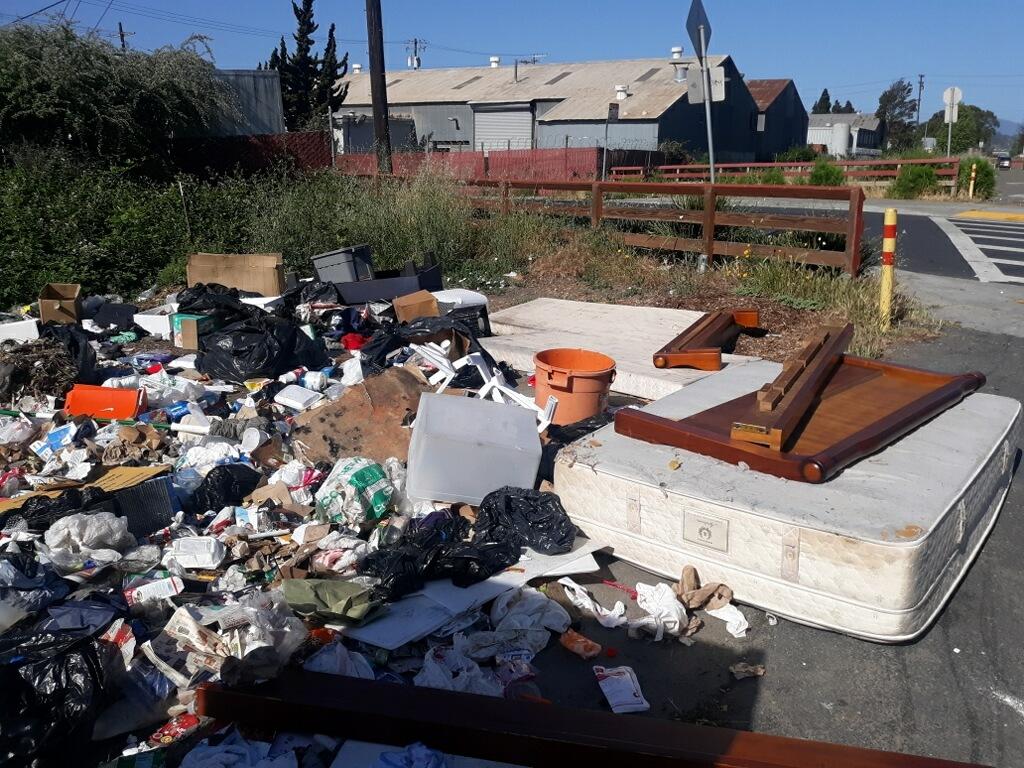 Greenway Anti-Dumping Campaign
After 16 years of dealing with constant illegal dumping on the Richmond Greenway, in 2020, Urban Tilth launched a comprehensive anti-dumping campaign. This campaign is aimed at stopping illegal dumping along the Richmond Greenway using the following strategies:
OFFER FREE DUMPSTER DAYS

Host 2 years of monthly FREE Dumpster days at 17th Street and the Richmond Greenway Trail to offer an easy option for local families to legally dispose of trash instead of putting it on the Greenway.

COMMUNITY CLEAN-UP DAYS

Every 3rd Saturday, while we are hosting the FREE Dumpster Days we are also inviting volunteers to come out to help us pick up trash and beautify the Greenway during our Peace, Love and Community Clean-up Days at Unity Plaza on the Richmond Greenway. This is a collaborative event we host with Rich City Rides and Moving Forward and helps neighbors and local residents take on a sense of 'ownership' of the Richmond Greenway.

SHARE INFORMATION

The FREE Dumpster days give us opportunities to directly connect with local residents and share information and resources about how low income neighbors can dump excess trash, oversized items and household hazardous waste for FREE or reduced price.
We are also creating booklets in English and Spanish that give ways to dump specific types of trash like mattresses, furniture, appliances, paint and light bulbs so our neighbors know exactly how to properly dispose of all kinds of trash they may end up with. These booklets will be mailed and dropped off in person to every house within two blocks of the Richmond Greenway.

RECEIVE DIRECT FEEDBACK FROM RESIDENTS

The FREE Dumpster Days also allows us to hear direct feedback from neighbors. We are learning what kinds of trash are most difficult for neighbors to dispose of and about any barriers that they may experience when trying to use existing resources.

ANTI-DUMPING SIGN

We are also working with the City of Richmond to install Anti-dumping signage at all park entrances and illegal dumping hot spots
Apart of this effort will also be to work with the City to repair broken bollards. Repairing and replacing broken bollards could help reduce dumping by for profit haulers who drive trucks of construction materials onto the Greenway to dump in the evenings.

INSTALL VIDEO CAMERAS at DUMPING HOT SPOTS

Although there is not support from the City at this point for pursuing for profit illegal dumpers who often are not from Richmond but dump their load in our parks and vacant lots, Urban Tilth feels compelled to listen to local residents and business owners who what to take steps to document who is doing this dumping so that they can make the case for enforcement by RPD and or Code Enforcement. We strongly believe that having clear consequences, even mandated hours of community service where they would have to pick up trash around the City is an important step to stopping people from dumping in our parks, lots and streets.
GET INVOLVED!
Help STOP Illegal Dumping on the Richmond Greenway
*JOIN a Peace, Love and Community Clean-up Day!
* DOWNLOAD the How to Dump It Booklet (Coming Soon)
* COMPLETE an Stop Illegal Dumping Survey (Coming Soon)

Contact our team if you have questions or would like to get more involved: greenway@urbantilth.org