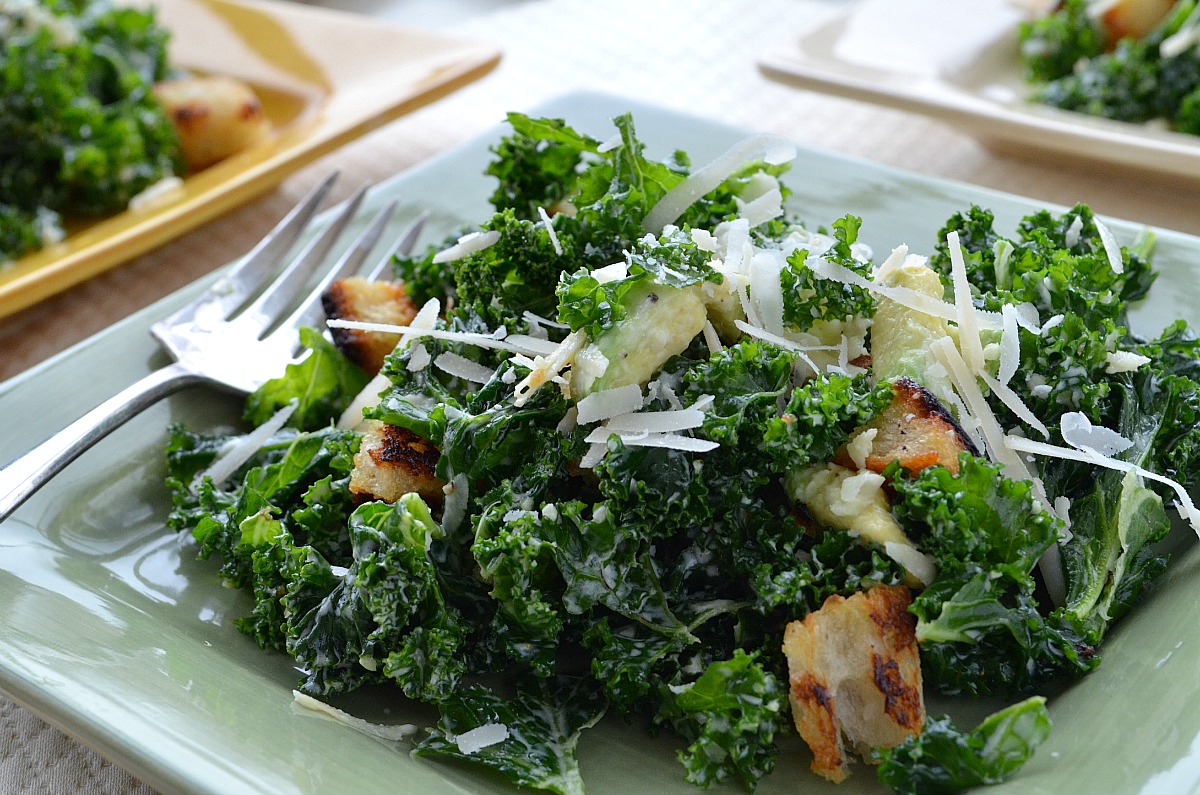 1 pound (about 2 bunches) kale, tough stems removed, leaves roughly chopped (about 4 quarts loosely packed leaves)
5 tablespoons olive oil
5 ounces hearty bread, roughly torn into 1-inch pieces
Kosher salt and freshly ground black pepper
2/3 cup mayonnaise
6 anchovy filets
1 medium clove garlic, minced (about 1 teaspoon)
1 1/2 ounces Parmigiano-Reggiano, finely grated (about 3/4 cup)
2 teaspoons Worcestershire sauce
2 tablespoons juice from 1 lemon
1 small white onion or 2 shallots, finely sliced
Instructions
Adjust oven rack to middle position and preheat oven to 350°F (180°C). In a large bowl, massage kale with 3 tablespoons olive oil, making sure to coat all surfaces, kneading with your hands to help break down the tougher pieces, about 2 minutes. Set aside while you prepare the croutons and the dressing.
Combine bread pieces with remaining olive oil in the bowl of a food processor. Pulse until broken down into pea-sized pieces. Season to taste with salt and pepper and pulse once or twice to combine. Transfer to a rimmed baking sheet. Place in oven and bake until croutons are pale golden brown and crisp, about 20 minutes.
Wipe out food processor bowl. Combine mayonnaise, anchovies, garlic, cheese, Worcestershire sauce, and lemon juice in the food processor bowl and process until smooth. Season to taste with salt and pepper if necessary.
When croutons are cooked, add onions, dressing, and half of croutons to large bowl with wilted kale. Toss with hands until thoroughly coated. Serve sprinkled with remaining croutons.