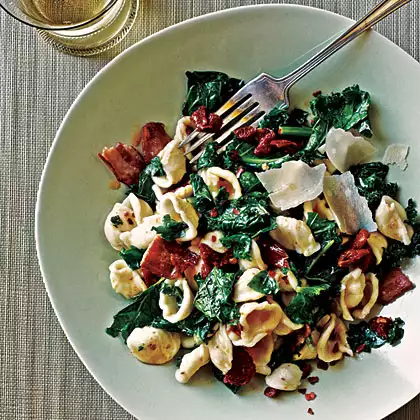 Ingredients
2 tablespoons extra-virgin olive oil, more for drizzling
3 shallots, thinly sliced
1 large fennel bulb, thinly sliced
3 garlic cloves, sliced
¼ teaspoon red pepper flakes
¼ cup chopped sage
12-ounces toscani pasta (or any short pasta)
¼ cup white wine
8 cups torn kale leaves
8 oil-packed sun-dried tomatoes, chopped
¼ cup chopped walnuts, toasted
2 tablespoons fresh lemon juice
Sea salt and freshly ground black pepper
Freshly grated pecorino cheese, for serving
Directions
Heat the oil in a large skillet over medium heat. Add the shallots, fennel, garlic, red pepper flakes, sage, ½ teaspoon salt, and freshly ground black pepper and cook until the fennel is tender, about 8 minutes.
Meanwhile, bring a large pot of salted water to a boil and cook the pasta until al dente.
To the skillet, add the white wine and let it reduce for 30 seconds. Then, reduce the heat to low, add the kale and toss until just wilted. Use a slotted spoon to scoop the cooked pasta into the skillet. Add the sun-dried tomatoes, walnuts, and lemon juice and toss.
Finally, season to taste and serve with generous drizzles of olive oil and freshly grated pecorino cheese.