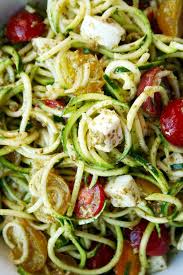 Ingredients
4 large zucchini
2 tbsp. extra-virgin olive oil
kosher salt
Freshly ground black pepper
2 c. cherry tomatoes, halved
1 c. mozzarella balls, quartered if large
1/4 c. fresh basil leaves
2 tbsp. balsamic vinegar
Directions
Using a spiralizer or vegetable peeler, create zoodles (or thin strips) out of zucchini.
Add zoodles to a large bowl, toss with olive oil and season with salt and pepper. Let marinate 15 minutes.
Add tomatoes, mozzarella and basil to zoodles and toss until combined.
Drizzle with balsamic and serve.