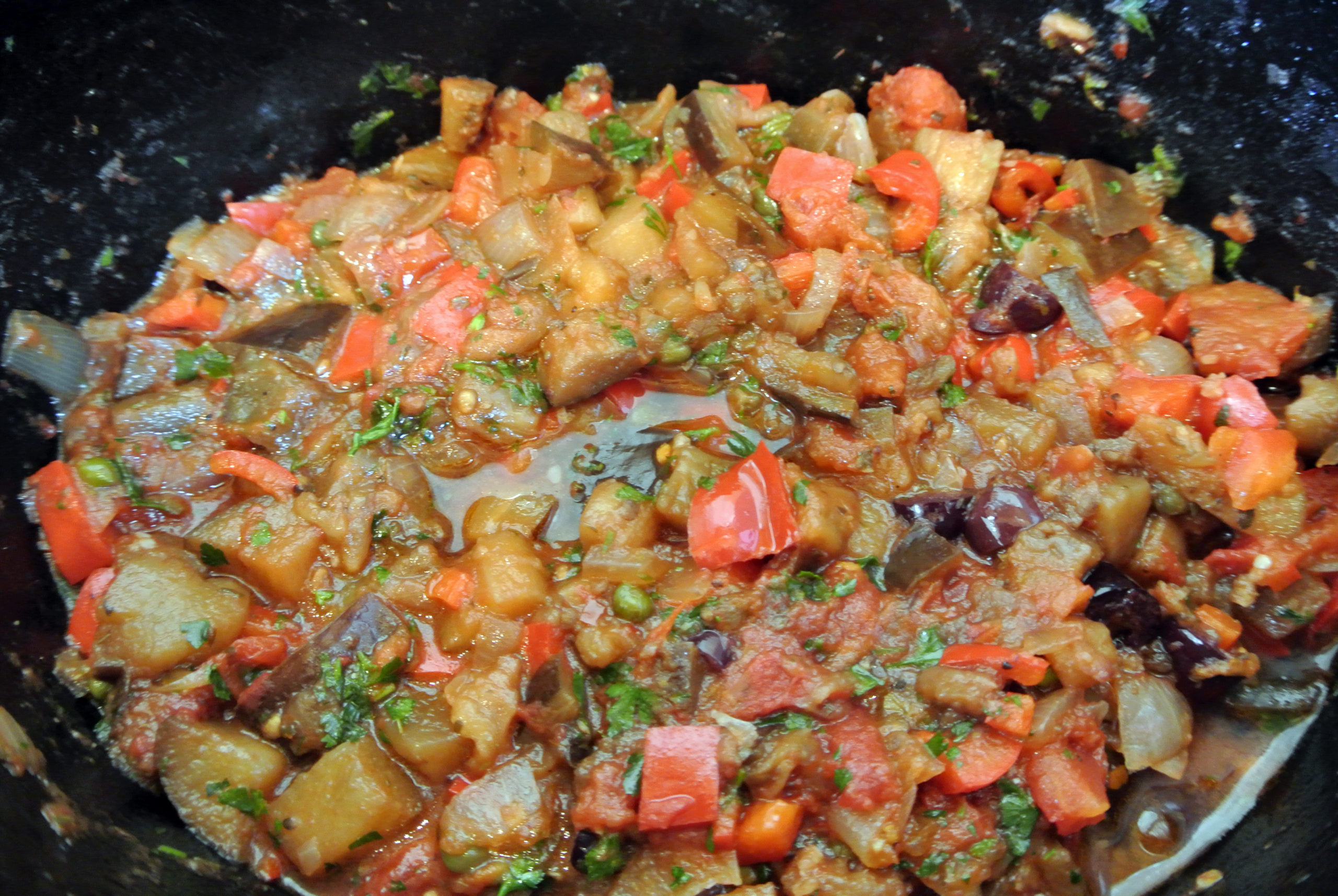 Ingredients
1 large eggplant 1 ¼ lb or so, cut into 1-inch cubes
1 onion chopped
1 red bell pepper chopped
2 small celery stalks thinly sliced
1 cup crushed tomatoes
2 tablespoon capers
¼ cup pitted green olives roughly chopped
¼ cup raisins
¼ cup red wine vinegar
¼ cup white wine
2 teaspoons honey 
Extra virgin olive oil 
¼ teaspoon to ½ teaspoon crushed red pepper flakes
1 bay leaf
2 tablespoon chopped fresh parsley
2 tablespoon chopped fresh mint
Black pepper and salt to taste
Directions
Heat the oven to 400 degrees F.
Season the eggplant cubes with salt (if you have the time, set it aside in a colander to sweat out its bitterness for about 20 or 30 minutes, while you prepare the remaining ingredients. Pat dry with paper towel).
Place the seasoned eggplant cubes on a sheet pan, add a generous drizzle of extra virgin olive oil (about 3 tablespoons or so) and toss to coat. Roast the eggplant in the heated oven for 25 to 30 minutes or until browned.
Heat 2 tablespoons of extra virgin olive oil in a large skillet. Add the onions, bell pepper, and celery. Season with a pinch of kosher salt and black pepper. Cook for about 5 to 7 minutes, tossing regularly until softened.
Add the tomatoes, olives, raisins, honey, bay leaf and crushed pepper flakes. Pour in the vinegar and white wine. Stir to combine. Simmer on medium-low heat for 10 minutes.
Stir in the roasted eggplant and cook for another 2 to 3 minutes in the sauce. Finish with fresh parsley and mint.