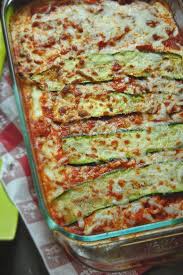 Ingredients
2 1/2–3 lbs zucchini (3–4 large, 9-inch long- see notes) 16-18 slices, cut to 1/3 inch thick.
olive oil, or spray olive oil
salt and pepper
Sauce: 
2 teaspoons olive oil
1 onion
4–6 garlic cloves
1/4 teaspoon fennel seeds (optional)
1 1/2 lbs ground lamb, beef, turkey, or use a vegan substitute like Beyond meat, beyond beef crumbles, soy crumbles or chopped mushrooms
1 teaspoon salt
1/4 teaspoon pepper
1 teaspoon oregano
3 cups marinara sauce (divided)
pinch chili flakes (optional)
8 basil leaves, torn
Ricotta Mixture:
15–16 ounces whole milk ricotta
1 egg
1/8 teaspoon nutmeg
2 ounces pecorino romano – about 1/2 cup grated (divided)
Directions
Preheat oven to 425F
Cook Zucchini: Slice zucchini into 1/4 inch slices. You'll need 16-18 good slices. See notes.  Place on a parchment-lined sheet pan, spray or brush with olive oil and sprinkle with salt and pepper, and place in the hot oven, for 20-ish minutes, or until fork-tender. Set aside. Alternatively, you can grill zucchini over medium-high until tender for even more flavor.
Make the Filling: In a large saucepan or skillet, saute the onion, garlic and optional fennel seeds in a little oil, for 1-2 minutes, over medium-high heat. Add the ground meat (or vegan meat) lower heat to medium, and break it apart with a metal spatula, until completely crumbled and cooked through, about 8-10 minutes (vegan meat will take much less time). Drain any of the fat. Return meat to the pan and add salt, pepper, oregano, and 2 cups marinara sauce. Give a good stir, cover and bring to a gentle simmer until heated all the way through. Stir in torn basil leaves.
Ricotta: Mix the ricotta cheese in a medium bowl with the egg and nutmeg.
Assemble:  Grease a 9 x13 inch pan. Pour 1/2 cup of marinara to coat the bottom lightly. Place 8-9 slices of zucchini ( save the prettiest, most uniform ones for the top.) to cover the bottom. Pour the meat sauce over top. Spoon the ricotta mixture over the meat sauce and spread it around. Sprinkle with 1/4 cup of the grated pecorino cheese, Add the top layer of zucchini. Pour the remaining 1/2 cup of marinara over top and spread evenly into a thin layer. Dust with the remaining pecorino.
Bake: Wipe off the edges of the pan, cover with foil and bake at 425F for 20 minutes, remove foil and continue baking, until golden and bubbling, 5-10 more minutes.