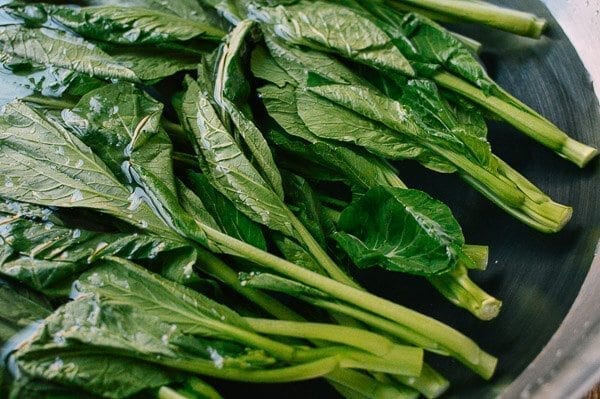 菜心 (Choy sum or yau choy in Cantonese or yu cai in Mandarin) is a delicious veggie to put in stir fry, soup, or eat boiled. The first character means vegetable and the second means heart; very healthy, very auspicious, and a reminder (like bok choy) to clean it very well for dirt hidden between the leaves!
I like to stir fry the greens with minced ginger and garlic; you only need to cook for a couple minutes. It is also very tasty when boiled for about 30 seconds (until the choy turns dark green); add some soy sauce, oyster sauce, and/or sesame oil to the water before adding the greens and enjoy the delicate flavor.
菜心 (Choy sum o yau choy en cantonés o yu cai en mandarín) es una verdura deliciosa para stir fry, sopa o de comer hervida. El primer carácter significa verdura y el segundo significa corazón; ¡muy saludable, muy auspicioso y un recuerdo (como el bok choy) para limpiarlo muy bien entre las hojas antes de cocina!
Me gusta salteando esas verduras con jengibre y ajo picado; solo necesitas cocinar por menos de cinco minutos. También es muy sabroso cuando se hierve por unos 30 segundos (hasta que el choy se vuelve verde oscuro); añade un poco de soya, oyster sauce y/o aceite de sésamo al agua antes de agregar las verduras y disfrute del sabor delicado.