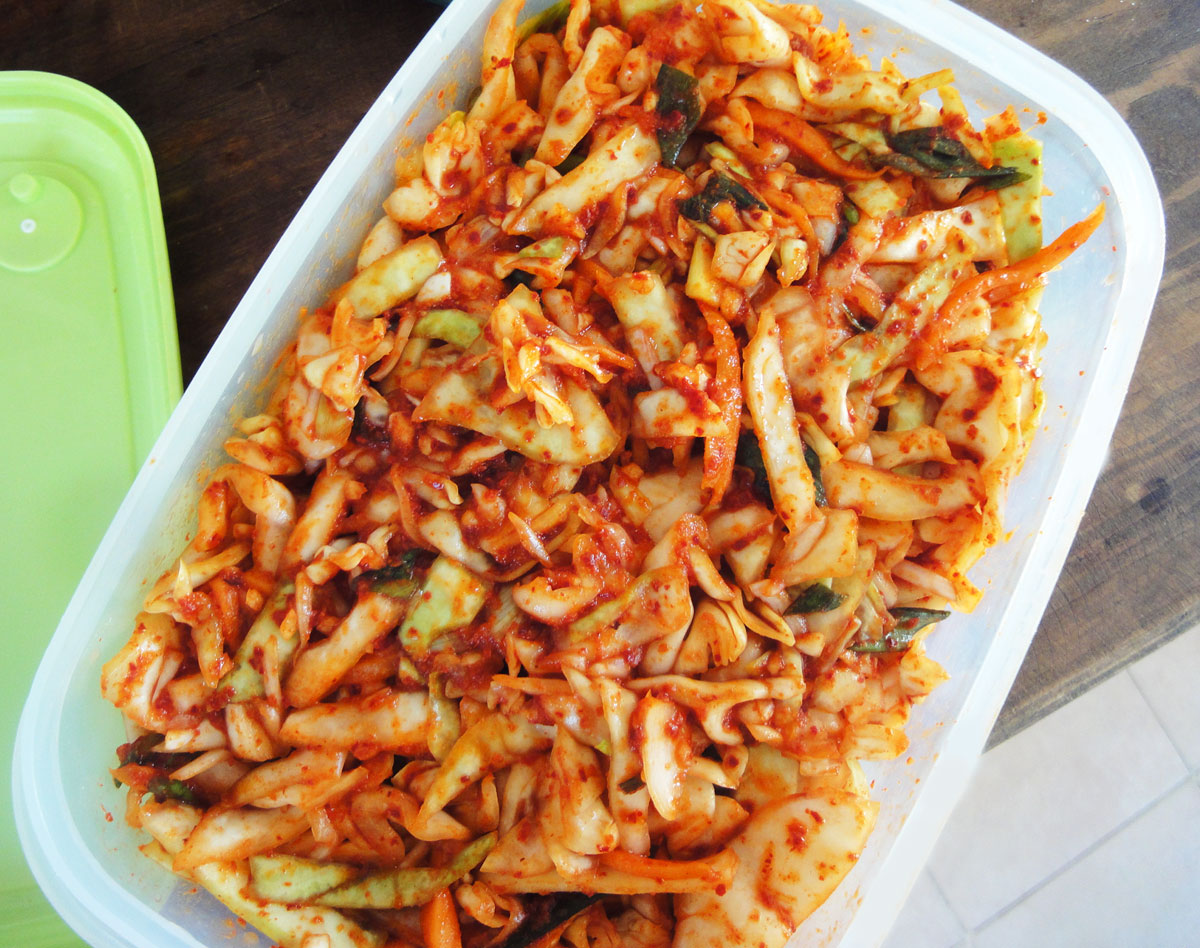 양배추김치 / Emergency kimchi
Cut 2 pounds of cabbage into thin strips about 2-3 inches in length and ¼ inch wide. Place into a large bowl.
Add 1 cup cold water and ¼ cup kosher salt. Mix it well with your hands to properly salt the cabbage.
Set aside for 10 minutes.
Make kimchi paste by mixing these ingredients in a bowl:
⅓ cup hot pepper flakes,
1 tbs sugar,
¼ cup fish sauce,
¼ cup minced garlic,
3-4 stalks of chopped green onion (⅓ cup worth),
¼ cup's worth of julienned carrot
Wash and rinse the salted cabbage in cold water a couple of times. Drain the water.
Mix the kimchi paste into the cabbage thoroughly.
Put the kimchi into a container, jar, or plastic bag.
Press the top of the kimchi down with your hands to protect your kimchi from being exposed to too much air.
You can eat it right away, just like salad. Or keep it at room temperature and it will ferment in a few days.
양배추김치 / Kimchi Mas Rapido
Corte 2 libras de repollo en tiras finas de aproximadamente 2-3 pulgadas de largo y ¼ de pulgada de ancho. Coloque en un tazón grande.
Añade 1 taza de agua fría y ¼ de taza de sal kosher. Mézclalo bien con las manos para salar adecuadamente el repollo. Ponga a un lado durante 10 minutos.
Haga pasta de kimchi mezclando estos ingredientes en un tazón:
⅓ taza de hojuelas de pimiento picante,
1 cucharada de azúcar,
¼ taza de salsa de pescado,
¼ taza de ajo picado,
3-4 tallos de cebolla verde picada (⅓ de taza),
¼ de taza de zanahoria en juliana
Lave y enjuague el repollo salado en agua fría un par de veces. Drenar el agua.
Mezcle bien la pasta de kimchi con el repollo.
Pon el kimchi en un recipiente, frasco o bolsa de plástico.
Presiona la parte superior del kimchi hacia abajo con las manos para protegerlo de la exposición a demasiado aire.
Puedes comerlo de inmediato, como una ensalada. O manténgalo a temperatura ambiente y fermentará en unos días.