Seed Power. Grow Justice.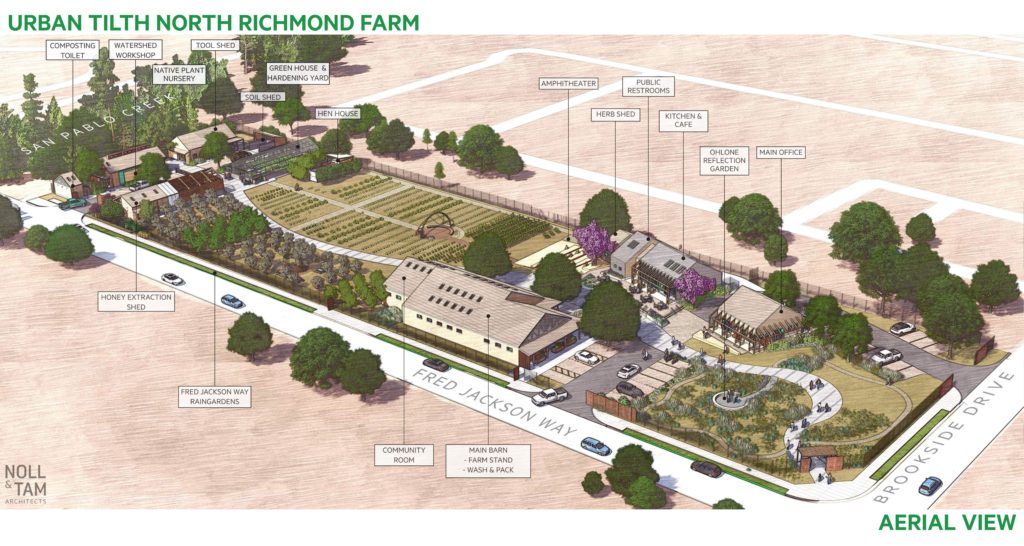 The new North Richmond Farm is so much more than an urban agriculture project. Our dream is to be a neighbourhood anchor that seeds healing, connection, self-determination, and prosperity for our entire community by serving as the heart of resident-led organizing and opportunity in North Richmond.
Developing the North Richmond Farm will enable Urban Tilth to:
Create twice as many jobs for local residents
Set up our Watersheds Learning Center to give residents pathways to green jobs
Open a new community room as a place for residents to organize, build power, and take collective action
Provide the community with a vibrant cultural venue for events, class visits, and recreational activities
Offer neighbours a thriving, safe, green space they can access 24/7
Immerse residents in the rich history of this land and the people and cultures who have shaped it through the History Walk and Ohlone reflection garden
Launch a Cooperative Café with free wifi and a community commercial kitchen to support local food entrepreneurs and teach youth to start and run small businesses
Our expansion will also make it possible to:
Become the first location in North Richmond where residents can access fresh produce 7 days a week
Give our immediate neighbours, who often don't own cars, a safe way to visit the farm via an updated Fred Jackson Way that incorporates rain gardens and new walking and biking paths
Double our growing and food distribution capacity
Spark the local economy through our local hire and procurement commitments which prioritize residents and businesses rooted in our community for everything from the design of the farm and construction to permanent jobs and sourcing.
Learn more about The Richmond Farm Project:
---
Invest in the Farm
Help transform the farm into a permanent, community-owned asset that will create opportunity, fuel resident-led organizing, and feed hearts and minds, spirits and bellies for generations to come.