Urban Tilth is the proud recipient of Contra Costa County's 12th Annual Leadership in Sustainability Award! Thank you so much Sustainable Contra Costa!! We take great pride in the work we do improving food sovereignty and food access here in our home community of Richmond, San Pablo, and West Contra Costa County!!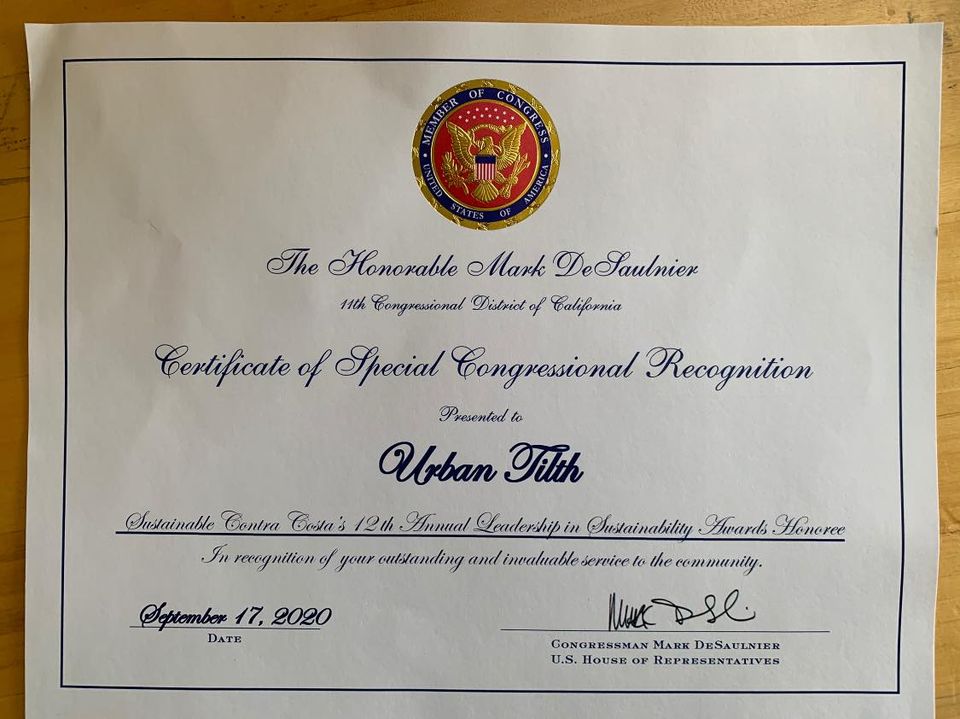 A word from Sustainable Contra Costa:
"Drumroll please… announcing one of our 2020 Leadership in Sustainability Award winners:
Congratulations Urban Tilth! This amazing non-profit based in Richmond, CA hires and trains local residents to cultivate agriculture to build a more sustainable, healthy, and just food system. Urban Tilth's garden and farm programs serve primarily extremely low income communities of color and functional "food deserts" in Contra Costa County.
In a nutshell, Urban Tilth mission is to farm, feed, forage, teach, train, build community. They also plant and manage school gardens and farms, teach an accredited course in Urban Ecology and American Food while also providing in-school and after-school programs in partnership with district teachers.
For Urban Tilth, the mission of "growing our own" is not just about food, but about each human's potential to nurture and grow themselves as well.
Come celebrate this inspiring award winner at our 12th Annual Sustainability Awards Gala on Sept 17! This year it's online and free:
https://www.eventbrite.com/e/12th-annual-sustainability-awards-presentation-tickets-116166462015?fbclid=IwAR219vFXTtVldyxJG-GsC24xFshkU_RbV80MsFWNnBUGZd7NIXt9lWziOm4