Cooking up goodness via Zoom
Update from The Urban Agriculture Course at Richmond High School by Adam Boisvert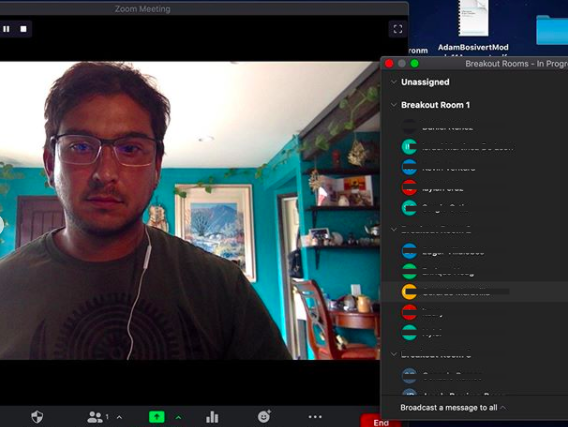 Needless to say, the past two months of distance learning have been very challenging for educators and students alike! The Urban Agriculture Course has been no exception. We are adapting to hosting a course that is typically hands-on and outside and is now via Zoom. Despite these challenges, the one thing that has remained extraordinary and inspiring is the desire and drive of our young adults to gain knowledge, skills, and persevere through these challenging times. I draw motivation from the many messages and videos my students send me highlighting how they tried a cooking recipe we went over in class and then shared it with their family, or that the seeds we gave them to plant at home have germinated and they are having fun watching them grow. In the classroom, we are teaching students about the earth's seasonal variation, the impact of climate change on our planet, and how human foodways have evolved over time. We hope to continue inspiring these young people to stay engaged in their education, food system, health, and in their community. Stay tuned for more updates from the Richmond High School Urban Agriculture Academy!
Our students have been diligently watering their Home Seed Growing projects, using the 3-gallon containers we provided. Over the weekend one student sent me this photo of their first seed germinating! Students have also been cooking at home with the recipes we give them during class.
Basil Pesto Pasta and a Pico De Gallo recipe
Watch this video of students making two of the garden-fresh recipes we covered during remote learning classes — Basil Pesto Pasta and a Pico De Gallo recipe with homemade baked chips.
With all of the challenges, we face during COVID-19 and distance learning, it's amazing to see the continued resiliency and hunger for knowledge that our young people have! Don't sleep on these young adults, and let's keep giving them opportunities to GROW!!