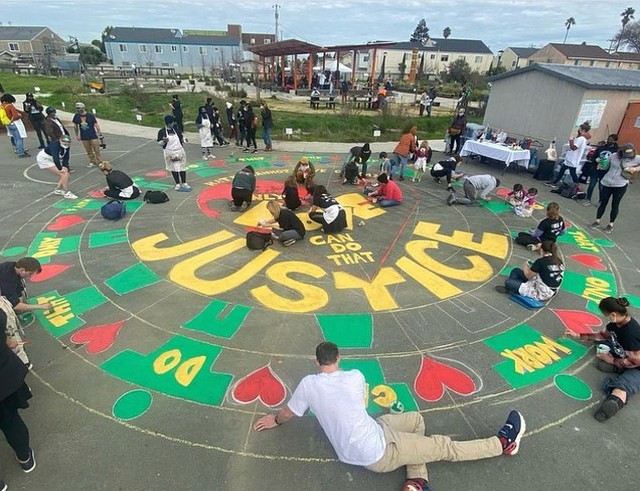 The big day is tomorrow!
Monday, January 17th, 2022
9:45 AM – 2:00 PM
We are excited to continue the legacy of Dr. King's work by being of service to the community and we hope you all can join us!

Below is IMPORTANT information you will need to know
to have a SAFE and FUN event…
Event Program
MLK National Day of Service on the Richmond Greenway
9:45 AM Arrive, sign in at Welcome Tables, get gear & choose a project
10:15 AM Volunteer Projects START
11:45 AM Volunteer Projects END
12:00 PM Moment of Silence for Dr King (Everywhere)
12:05 PM Speech on legacy of the Civil Rights Movement, Pastor K. Hasan
(Unity Plaza)
12:05 PM *Activities begin at Unity Plaza
12:15 PM Special Thanks for the community, volunteers and sponsors
12:30 PM Speech by Kevin Nichols
1:45 PM *Activities end at Unity Plaza
2:00 PM Thank you and Goodbye until next year!
3 Things to Know and Do
#1 COVID SAFETY
If you are sick, please stay home and get better <3.
If you think you have been exposed to a Covid positive person, please stay home this year.
If you are attending this years event please ALL PARTICIPANTS must:
Wear a mask at all times
Remember to social distance *6 feet apart*

#2 START YOUR DAY AT A WELCOME TABLE
Stop by one of our welcome tables to:
Sign in
Sign a liability waiver
Pick up your FREE N95 mask and gloves to ensure safety
Pick up a FREE 2022 commemorative T-shirt!
#3 CHOOSE YOUR ARRIVAL LOCATION by choosing your VOLUNTEER PROJECT
We will have projects happening from 10:00 AM – 11:45 PM with welcome tables at 6th street and 16th street.
***Please go to the Welcome Table closest to the
volunteer project you would like to complete***
Arrive EARLY to get your first choice project, as spaces will be limited.
6th Street Welcome Table
(Choose from 8 Volunteer Projects)
16th Street Welcome Table
(Choose from 10 Volunteer Projects)
TRASH SWEEP
Help clean up the Greenway from 2nd Street – Harbor Way (Away Teams will leave 6th street at 10:15 AM)
Volunteers Needed: 10-20


PLANT NEW BUTTERFLY GARDEN
Help plant a new butterfly and pollinator garden at 4th street
Volunteers Needed: 6-16


FRUIT TREE LOVE
Help weed and mulch our new fruit trees at 4th street so there is lots of fruit for the community this Spring!
Volunteers Needed: 8-16


NEW FLOWERS on ARBORS & PLANT TREE COLLARDS
Help create 5 new purple tree collard beds in the citrus orchard area, plant 5 raised bed planters with flowers, plant trellising chayote and passion flower on arbors
Volunteers Needed: 6-16


PREPARE BEDS for SPRING VEGGIES
Clear finished food crops from raised beds, top dress strawberries with compost and water, plant spring crops
Volunteers Needed: 6-16


CARE FOR POLLINATOR GARDEN BEDS
Help weed, deadhead and plant a more butterfly and pollinator plants in the pollinator beds at 6th street
Volunteers Needed: 8-24


PLANT CARE
Help the CCC Resource Conservation District care for plants from 6th – 8th street
Volunteers Needed: 10-15


TREE PLANTING
Help plant trees with Groundwork Richmond near Harbor Way
Volunteers Needed: 5-10


*We usually need more volunteers at 6th street, especially if you like to garden please join us at
6th street.*

*Please note:
6th Street Activities will end at 11:30AM so 6th street volunteers can join the Moment of Silence and other activities at 16th Street.
TRASH SWEEP
Help clean up the Greenway from Marina Way to 23rd Street (Away Teams will leave 16th street UNITY PLAZA at 10:15 AM)
Volunteers Needed: 10-20


MURAL PAINTING
Help Rich City Rides paint 2 new chalk ground murals in UNITY PLAZA
Volunteers Needed: 10-20


FREE BIKE REPAIRS
Help Rich City Rides repair bike for community members at UNITY PLAZA Bike Hub
*Skilled Volunteers ONLY: 2-6


SUCCULENT GARDEN & FLOWER PLANTING
Beautify the succulent garden in UNITY PLAZA by weeding, deadheading and planting new succulents ALSO refresh the trash can planters buy planting new flowers in playground, bathroom area and in front of bike hub
Volunteers Needed: 3-9


BEAUTIFY THE PLAYGROUND
Help clean up the playground for our kids by picking up trash, weed and mulching
Volunteers Needed: 8-16


BUILD A NEW FLOWER GARDEN
Help build a new cut flower and pollinator garden at Unity Plaza
Volunteers Needed: 8-16


BEAUTIFY THE NATIVE PLANT SHOWCASE GARDEN
Help weed, mulch, deadhead and plant new native plants in our Native Plant Garden at Unity Plaza
Volunteers Needed: 8-16


PLANT LAVENDER
Help plant a news border of healing and stress relieving lavender along the Edible Forest fruit tree orchard between 16th & 17th streets
Volunteers Needed: 6-12


BIOSWALE CARE
Help The Watershed Project care for native plants in the bioswale at 17th Street
Volunteers Needed: 8-25


DUMPSTER LOADING
Help away teams load the dumpster with trash so we can leave the park clean and beautiful!
Volunteers Needed: 2-4
Volunteer projects do have capacity limits,
so please arrive EARLY if you'd like your first choice.
ACTIVITIES 12:00 PM – 2:00 PM
@ 16th Street UNITY PLAZA
Starting at 12:00 PM we will have activities for all ages:
Moment of Silence @ 12PM
Remembering the legacy of Dr. King and the Civil Rights Movement Speech by Pastor Kamal Hasan
Kids I Have a Dream pot painting activity
FREE screen printing at 16th St. (Please bring a T-shirt to have screen printed),
FREE Bike Repairs
Rollerskating with FREE skate rentals @ Unity Plaza Basketball C
Do not forget to stop by the educational MLK overpass along the Greenway Trail (located at Marina Way S.) and learn more about Dr. Martin Luther King Jr. and the Civil Rights Movement
DJ Sticky will be playing music to set the vibe and much more!
Things to Remember:
Choose your Welcome Table starting location closest to the volunteer project you'd like to complete (most gardening projects are at 6th Street)
Arrive early 9:45 am to make sure you get your 1st choice project
Wear your mask, always (unless you are actively eating or drinking)
Its ok to step back, maintain a distance to stay COVID safe <3
Looking forward to a safe and INSPIRING day!
For questions or more information contact
Arleide Santos, arleide@urbantilth.org.