Join It Takes Roots, the Climate Justice Alliance and the Richmond Our Power Coalition in San Francisco from Sept. 8-16, 2018!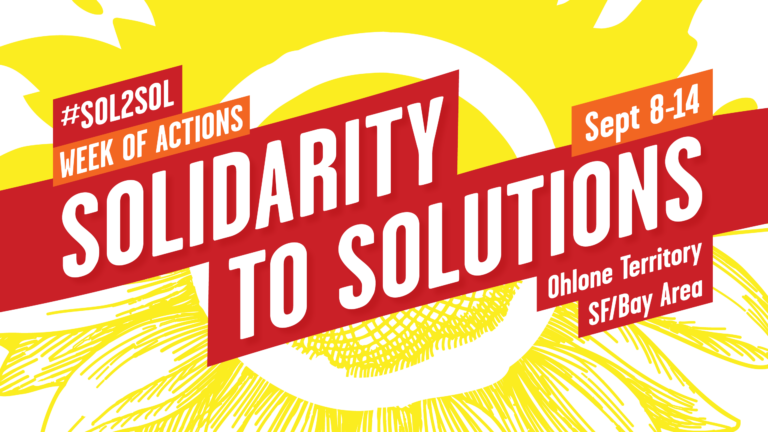 #Sol2Sol Week – September 8-16, 2018, will be held parallel to the Global Climate Action Summit (GCAS), where California Governor Jerry Brown and global business leaders will be promoting costly corporate schemes as silver-bullet solutions to climate change.
Join us in taking action to stop destructive schemes, that serve only to feed disaster capitalism, racism and climate change, demanding reinvestment in local community solutions that ensure a just transition from the current extractive economy to a regenerative one.
The planet needs solutions led by Indigenous communities, communities of color, women, workers and the poor. Nothing less will do!
[tab]
[tab_item title="SAT, Sept 8th"]
RISE! For Climate Jobs and Justice March
When: September 8, 2018
Where: Embarcadero Plaza, Four Embarcadero Plaza, San Francisco, CA 94105Line Up begins at 10:00 AM
March takes off at 11:00 AM

Join the It Takes Roots contingent on the frontlines led by the communities that are most affected by the climate crises.
We will be meeting at Market and Drum St.
The march will end at Civic Center Plaza, near San Francisco City Hall. There will be music, and dozens of information tables from the organizations that helped make this march possible.
[/tab_item]
[tab_item title="SUN, Sept 9″]
Traditional Ohlone Ceremony and Welcome at the Shellmounds.
Community Solutions Tours, Art Builds & Action training, Bay Area
Starts at 8 AM
[/tab_item]
[tab_item title="MON, Sept 10″]
Mass action Against Climate Change Profiteers
On September 10th, join us in a mass non-violence action at one of the locations where climate profiteers will meet prior to the Global Climate Action Summit (GCAS).
When: 8 AM
Where: Parc 55 Hotel, 55 Cyril Magnin St, San Francisco
[/tab_item]
[tab_item title="TUES, Sept 11″]
It Takes Roots Solidarity to Solutions Summit
Where: La Raza Park, San Francisco
The Solidarity to Solutions Summit is a popular assembly hosted by It Takes Roots, for all progressive social movements to gather, present, discuss and debate critical strategies, solutions and proposals for collective action to tackle the root, systemic causes of capitalism and climate change.
This assembly is being built on our shared belief that to successfully tackle these intertwined crises, we need to take action in solidarity with the self-determination of communities on the frontlines of ecological and economic collapse, following their leadership in replacing the dig, burn, drive, dump systems destroying the planet, with localized systems of caring and sharing being cultivated by those same communities.
The gathering will aim to both provide a critical examination of the neoliberal, corporate agenda of the Global Climate Action Summit and highlight democratic, grassroots solutions being cultivated by Indigenous communities, communities of color and working class peoples around the world.
[/tab_item]
[tab_item title="THURS, Sept 13″]
Mass Action at the Global Climate Action Summit
When: 7 AM
Where: 
736 Mission St, San Francisco
 We invite all leaders who are marketing and trading our futures, to return all stolen wealth and resources, and reinvest in frontline communities organizing a Just Transition to local, living economies guided by the earth's natural cycles and the needs of all peoples, not the profits of a few. Join us to challenge an economic agenda that also militarizes our lands, gentrifies and displaces our communities, wages gendered and racialized violence against our peoples, incarcerates our youth, and exploits and enslaves our natural and human resources to further concentrate profits and power.
Our actions will be wrapped in prayer and committed with love for all we hold dear. Our actions will embody visionary and beautiful solutions cultivated by our communities whose deep roots are bound in protecting the fragile balance between Mother Earth & Father Sky.
We call for all peoples around the world to join us on the streets of San Francisco as we tell Jerry Brown and his friends that "real climate leaders" stand with people, not the pollution profiteers.
[/tab_item]
[tab_item title="SAT, Sept 15th"]
US Food Sovereignty Alliance Western Region Convening
Day 1: Encuentro with Bay Area Practitioners, Local Tours (RSVP and More Info TBA)
When: Starts at 10 AM
[/tab_item]
[tab_item title="SUN, Sept 16th"]
US Food Sovereignty Alliance Western Region Convening
Day II: Members Meeting in preparation for National Assembly (RSVP and More Info TBA)
When: Starts at 10 AM
[/tab_item]
[/tab]