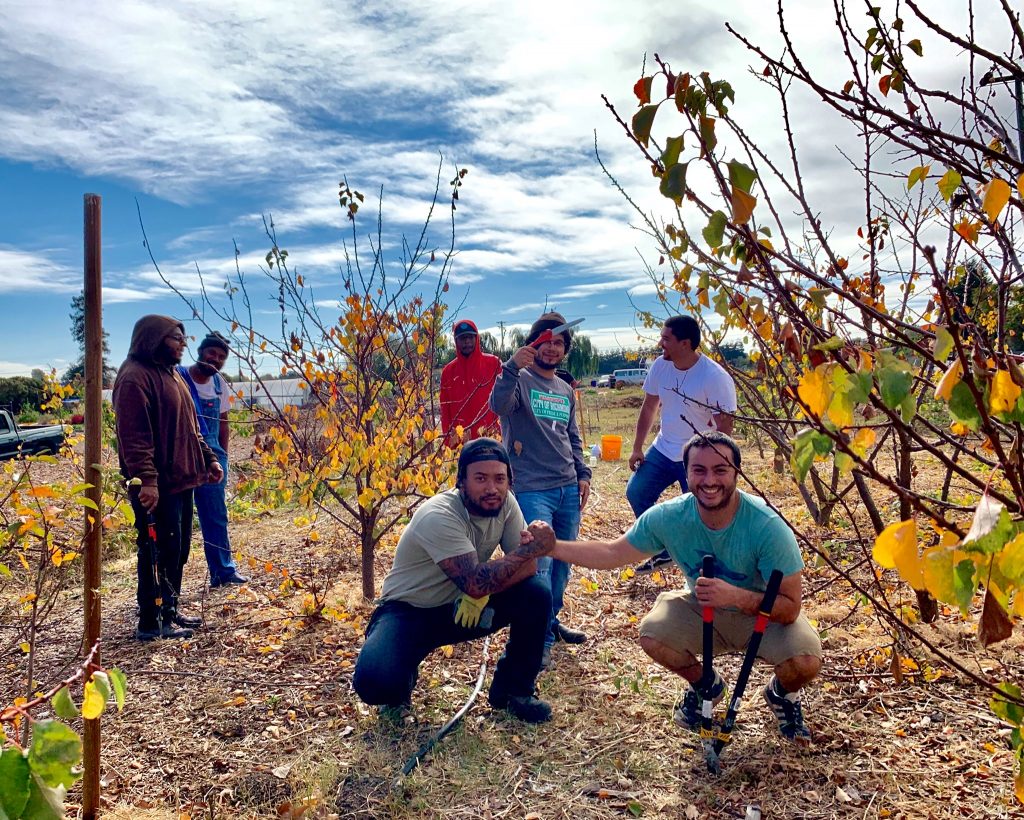 Richmond's Young Adults Bring New Wave of Stewardship
December 11, 2019
Each day Urban Tilth's young adult staff cares for difficult public spaces on the ground and between people and in community. Their stewardship is fundamental for groundbreaking Urban Tilth projects like Richmond's Greenway Gardens, the 1st Street Sol Garden and Basin's of Relations Watershed Stewardship Training Program where they clean, restore, and improve the community's access to open space, enabling us to connect with the outdoors and recreation in nature.
We are committed to being a multi-generational organization and we are all supported by the elders on our staff and the adults in our community as we develop our ability to do good work.  Our young adults are dreaming up and creating new programs to bring previously unmet peer mental health support to Richmond's youth. All of this work is done in conjunction with contributing to real food security for all through our farm and food programs. 
Many of Urban Tilth's staff began as youth in our school and summer programs and continued on with us, showing dedication and interest in caring for community. Our long-established programs such as at Richmond High School and at the Greenway Gardens are now creating amazing breakthrough programs that serve as models for all communities. These examples of resiliency in action are being energized and moved forward by our staff's vision and persistence to see positive change happen for the people we serve, bringing perspective and added the hope that things can improve.
We are blessed by creeks in our North Richmond neighborhoods and our Basins of Relations staff cares for them through community creek clean-ups, teaching elementary students about creek ecology, and mentorship programs. We engage North Richmond and develop plans to improve access and trails for Wildcat Creek so we can fully enjoy this natural resource as a place of renewal and rejuvenation in our city. We hold community celebrations at the creek to come together and make acknowledgment. Watch our video about our visioning and stewardship work at Wildcat Creek:
https://www.youtube.com/watch?v=t-1-Fh7tHyM
Another project created this year is The Healing Movement after-school club at Richmond High. Watch the video of the making of the club:
https://www.youtube.com/watch?v=5DlfF4DLNmQ&t=107s
These are a few of the ways our young adults moved our programs forward this year: 
Increasing food production and distribution at the North Richmond Farm, building new crop rows, windows, irrigation, outreach to the community and special events

Extending our learning programs at Richmond High School with 2 new after-school clubs – The Healing Movement and The Urban Naturalists

Leading many wonderful community workshops at Sol Garden and sharing knowledge about  herbalism and natural remedies

Facilitating the community visioning process for Wildcat Creek 

Leading clean up crews and gardening at Richmond's Greenway Gardens, repairing and maintaining infrastructure, planting, watering, and weeding, handling dumping and difficult situations, delivering summer lunch programs, hosting Zumba and physical activity events
Our work and projects are uniquely rooted in Richmond with knowledge that is based on our local experiences, bringing our resiliency to each day and moving ahead, with and through obstacles, showing how neighborhoods and locations without financial resources can thrive through grassroots power and initiatives.
Please contribute to keep moving these initiatives forward.
Urban Tilth always relies on the support of our community and caring folks who donate their funds, time, and encouragement. We hope that you can make a donation during this year-end time and we also hope you will participate in our 2020 programs, whether it is by attending our events, subscribing to our CSA program, or lending expertise and a good word. May we all have a great upcoming year!