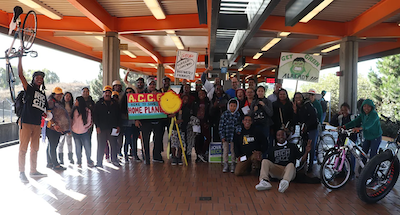 Just Transition in Richmond: Part I
From Justice Funders Newsletter
In this series, we learn about the visionary work of Richmond Our Power Coalition (ROPC), a core partner of Justice Funders that is building a Just Transition to a regenerative, living economy in Richmond, California.
In Part 1: Sowing the Seeds, we heard stories from three ROPC organizations that are building power among Richmond residents to transform their local economy in a city that is over 80 percent Black, Latinx and Asian American and has born the brunt of living in the shadows of the Chevron Refinery for over 120 years.
Ernesto Arevalo of Communities for a Better Environment described their campaign to decommission the Chevron refinery, and their focus on participatory action research and community planning processes that lift up the perspectives and leadership of the communities most impacted by environmental harm: "We have to be centered in moving forward the solutions…by the environmental justice frontline voices and the existing and past generational voices of Richmond residents."
Denny Khamphanthong of Asian Pacific Environmental Network spoke about how their intergenerational, cross-cultural organizing approach to creating climate resilience is building the bench of environmental justice advocates among young people, monolingual immigrants and refugees: "It's powerful to see our youth engage and talk to their peers…In this moment they've really learned what it means to take power and organize and really speak to solutions for the future."
Doria Robinson of Urban Tilth shared their vision for a community-led farm in North Richmond, and explained how their work to hire, train and empower local residents to transform blighted properties into thriving gardens is more than just about growing healthy food: "What we're really doing, while we grow food to try to heal people's bodies, is actually planting the seeds of revolution and liberation within the people who are most affected by this crappy system, this painful, violent system, that we're trying to nurture the lights inside of us, inside the people who are born into this situation so we can be the change makers."
We are deeply inspired by the powerful stories of these grassroots leaders who are both stopping the bad and building the new to transform Richmond's local economy into one that drives racial, economic and environmental justice.
To learn more about: