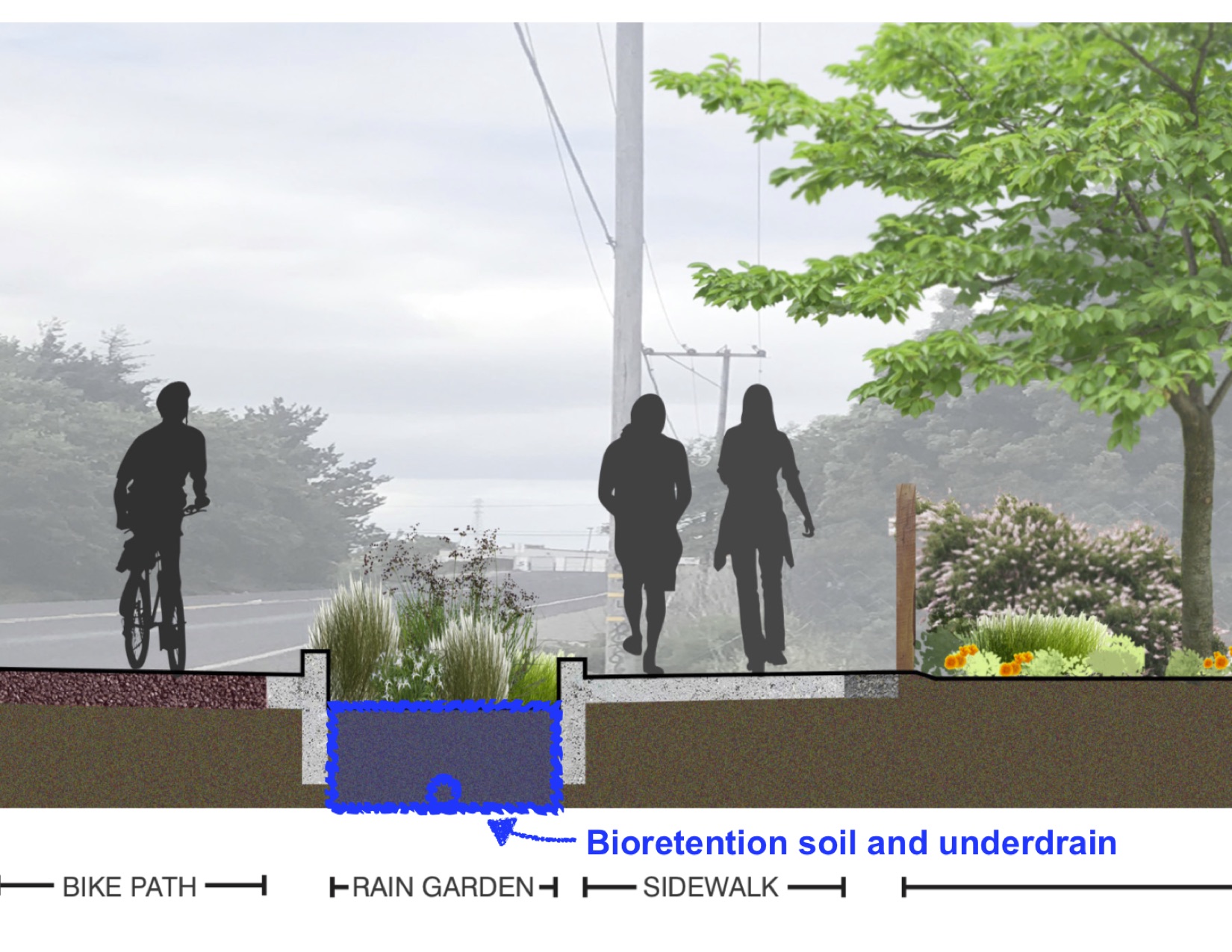 Fall 2022
---
Phase I: Fred Jackson Way Rain Gardens Project, Underground Utilities and Site Grading
We will begin the first phase of farm construction in the Fall of 2022, with the Fred Jackson Way Rain Gardens Project and by starting site grading and bringing underground  utilities (sanitary sewer, water, and storm drain) to the site. These are the first steps in the implementation of the ultimate design. The crop rows that we've built will be untouched by construction, but there will be a lot of changes to everything else currently during the Fall of 2022 on the site.
The Fred Jackson Way Rain Gardens will replace the trash and weed-filled ditches along Fred Jackson Way (which runs along the west side of the North Richmond Farm) with a sidewalk, a bike lane, and rain gardens. Adding sidewalks and bike lanes along the length of Fred Jackson Way will ease access to the farm for local North Richmond residents. The rain gardens will filter pollutants from the roadway, sending cleaner, filtered rainwater to nearby San Pablo Creek.  Runoff from over 14,000 square feet of roadway will be treated by the rain gardens.

Urban Tilth was awarded a Coastal Conservancy Grant in 2015 to design the Rain gardens along Fred Jackson Way. We partnered with the County and The Watershed Project in 2017, to create the North Richmond Watershed Connections Project, which includes the Rain gardens project and provides sidewalk and bike lane extending all the way from the North Richmond residential area to the Farm, connecting to the local ballfields and Wildcat Creek Trail along the way.   This project was awarded a Proposition 1 grant by the State Coastal Conservancy to fund construction.
Additional Information:  
Fred Jackson Way Conceptual Design [View pdf]
Fred Jackson Way Conceptual Design – Detail [View pdf]
Fred Jackson Way Schematic Design [View pdf]

Coastal Conservancy Staff Recommendation

for award of grant for construction of the North Richmond Watershed Connections Project

North Richmond Watershed Connections

Project Plans and Maps

Drone flyover video of the

North Richmond Watershed Connections Project connector including the Fred Jackson Way Rain Gardens site (along the farm between Brookside Drive and San Pablo Creek)
*Keep up-to-date with our progress by visiting our Farm Construction News blog